Celebrating 22 years of dedication to Irish Dance in Cleveland Ohio.
cl.academy[@]att.net
Come visit our locations: Euclid, Middleburg Heights, Westlake Ohio.
Registered with CLRG,IDTANA,IDTAMA.
Walk-in registration available year-round at all locations
Director:
Catherine Leneghan Fox, TCRG, ADCRG, BG

5 - WEEK SUMMER SESSION
EUCLID JUNE 23/30 JULY 14/21/28
Westlake beginners June 23/30 July 14/21/28
MIDDLEBURG HEIGHTS June 24, July 22/29 Aug. 5/12
WESTLAKE JUNE 25 JULY 9/16/23/30
WESTLAKE JUNE 26 JULY 10/17/24/31

World Championship 2014 Brandon 12th/Declan 13th
Mid-American Championship 2013 World Qualifiers: Alyssa, Brandon, Declan
Mid-American Championship 2013 Senior Ladies (Molly) 15th
Mid-American Championship 2013-Ladies U19 (Alyssa) 6th
Mid-American Championship 2013 Ladies U18 (Taylor) 12th
Mid-American Championship 2013 Ladies U18 (Cassie) 28th
Mid-American Championship 2013 Boys U18(Brandon)2nd
Mid-American Championship 2013 Girls U11 (Ailish) 28th
Mid-American Championship 2013 Girls U 11 (Rosalia) 31st
Mid-American Championship 2013 Boys U11 (Aiden) 9th
Mid-American Championship 2013 Girls U10 (Mary B) 42nd
Mid-American Championship 2013 Boys U10 (Declan) 1st
Mid-American Championship 2013 Boys U8 (Anthony)3rd
Great Britain Championship 2013 - 6th place Declan
State of Ohio Senior Dance off Winner Brandon 2012 & 2013
WORLD CHAMPIONSHIP 2013 - BOYS U 17 (BRANDON) 9TH PLACE
WORLD CHAMPIONSHIP 2013 SUB-MINOR TEAM 25TH RECALLED
Preliminary Championship Dance-off Winner June Butler Feis 2013 Rosalia
Great Britain Championship 2012- 23rd place and Recalled - Taylor K

Cead Mile Failte-"100 Thousand Welcomes" to the Leneghan Academy of Irish Dance. The Leneghan Academy was founded in 1992 by Catherine Leneghan. Catherine was trained by two Cleveland legends: Theresa Burke and Bob Masterson. Along the way she had opportunities to train under many prestigious instructors both at home and abroad. Taking her Irish roots from Ballycroy,Tourmekeady and Islandeady Mayo she was steeped in Irish tradition early on. She is certified as a teacher (TCRG), adjudicator (ADCRG) and grade examiner (BG) of Irish dance and is fully accredited through Dublin Ireland and a member of IDTAMA and IDTANA (regional and national associations).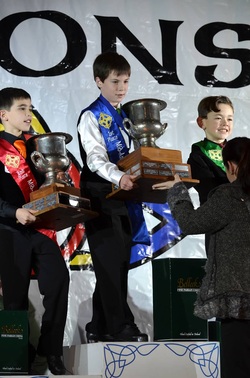 CONGRATS! Mid-American U8 CHAMPION 2011, the National Champion U9 9 2012, Mid-American Champion U9 2012 and Mid-American Champion U10 2013!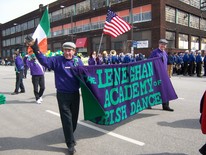 LA celebrates Irish Heritage in the 3/17 parade!
---